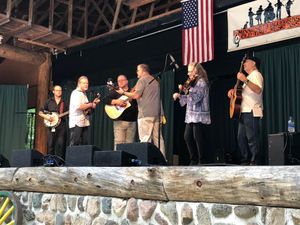 Wow, October is a busy month again for the Daredevils!  We kick it off This Saturday, October 6th at Flat Earth Brewery in St Paul.   One of our favorite places to play this taproom and brew house is located in the old Hams Brewing building on Minnehaha Ave in St Paul's East Side.   It's a fun atmosphere with friendly people, Good Beer AND, its DOG Friendly!    So bring your 4 legged friend and come on down.   If there weathers nice we'll be on the patio which is really awesome!
Then October 13th we'll be at Maries Underground Tap and Grill in Red Wing.   I love playing in that space, always have.  This time, I have the whole band with me!   Singing for the hometown crowd  is one of my favorite things!    Come enjoy some great food, fun people and good music!
October 20th The Daredevils go back to one of our regular haunts, Kinney Creek Brewery in Rochester!   Small, friendly taproom with some great beers by the pioneer in Rochester Craft Brewing, Donovan Seitz.    We hope to see lots of our freinds in SE MN at this one!
October 26 and 27th is the Minnesota Bluegrass Fall Jam at the Crowne Plaza Hotel in Plymouth MN.   No formal stage show for the Daredevils but we will be around there jamming, leading or attending workshops and theme jams.   Tom Peschges, of the Daredevils is the chairman of the event committee.    Come and jam with us!
We look forward to seeing you at one of these events!