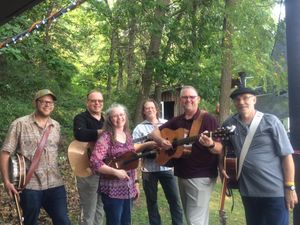 SEMBA 2018 is behind us now.    Held every year in Houston MN, this is a fun little festival full of nice friendly folks who love their traditional Bluegrass !  This was our 2nd time at SEMBA!    It's a smaller festival as festivals go maybe 300 attendees?  (Just my guess)    It really kinda feels almost like a family reunion.  People who mostly know each other and have for many years.    I don't think any of us brought any food with.   We just ate at the barn with everyone else.  The food was home made, very reasonably priced and it was all a fundraiser for relay for life... a cancer research organization.
The Daredevils played 4 sets in 2 days, including a Gospel set on Sunday morning.   Everything went pretty well and every show was just a lot of fun!     The other highlight was the late night jam on Saturday with all of the Daredevils and David Robinson and Rick Lee.   
Now we have a couple weeks off and then The Pioneer Park Bluegrass Festival in Cameron WI, September 7 - 8, and a full calendar in October, we will be somewhere every weekend!