Yep, it's Summer. And the way we know that is the Daredevils have lots of gigs lined up for the next couple months.  Here's the high altitude overview 
June 30th:  Picks and Pints Beer and Music Festival  at Kinney Creek Brewery in Rochester.    Outdoors, rain or shine.   5 Bands!  Starting at 2pm going till 10pm.   Kinda proud that I have played this festival every year since it began  (Back when I was a solo act).    There are Food trucks, games, music and of course, Kinney Creeks awesome lineup of fresh beers!.   It's an event worthy of a Summer Saturday!    Hope to see you there!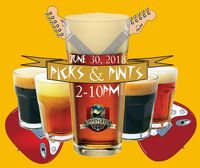 D'Sievers 2-3:30pm 
Trevor Marty 3:45-4:45pm 
Fred The Bear 5-6:30pm 
The Double Down Daredevils 6:45-8:15pm 
The Swamp Kings 8:30-10pm
July 7th:  Red Wing Farmers Market.    10 am till Noon or so.   At the Saturday Farmers Market in Red Wing.    What a great way to start a weekend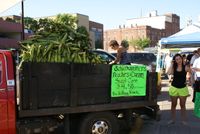 I love playing the Farmers Market, and even more fun when the whole band joins me.   Bring a lawnchair or a blanket and enjoy some homemade bread or a carmel roll instead and afterwhile, a piece of Rhubarb pie!     It's a nice, sunny little venue by the Depot in Red Wing.   Quiet, intimate and outdoors.   Quiet that is until a train rolls through.  The rule is if a train interrupts your song, you have to sing a train song.
July 14th:  Private Party
July 21st:  Private Party
July 28th:   Beer and Bluegrass at Flat Earth Brewery in St Paul    -   On The Patio

Just so you understand, this is more than just a show for the Daredevils, this is a Bluegrass Festival!    Jamming from 3-6.  All musicians welcome, please!  Bring your Instruments!
This will be on "The Patio"   For those who've never been, Flat Earth is located in the old Hamms Brewery (which is cool enough in itself)  The Patio, is really a part of a 2 story building with the roof and the upper floor removed. It's a huge open space with stone walls on either side and absolutely amazing acoustics.   
There May be another Band there as well  (TBA)   Drawings for Flat Earth Merch and Maybe even Bluegrass Karoke with the Double Down Daredevils.   If you hang around a while, we might even have an all star jam to close out the night!
Daredevils play 6:30 - 9:30   
That's it for July !    August begins Festival Season Big time!    Next Post