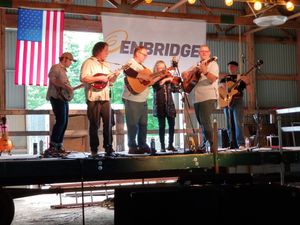 We had a Great Time In Ladysmith!   
 As festivals go this one was a little smaller than some we have played but we had a warm, appreciative audience and a lot of fun.   Good line-up of bands too.   We had some good jamming both nights we were there.   Friday night was especially fun as were were joined by Bruce King who plays Mandolin with Art Stevenson and Highwater -  and plays almost everything else off stage!   He's a great musician and fun to jam with!   
Big Thank you to the Ladysmith Chamber of Commerce and the whole crew of volunteer running the festival too.    We hope we get to come back next year!
Heres  link to a youtube video from the weekend too :     Tune of a $20 Bill